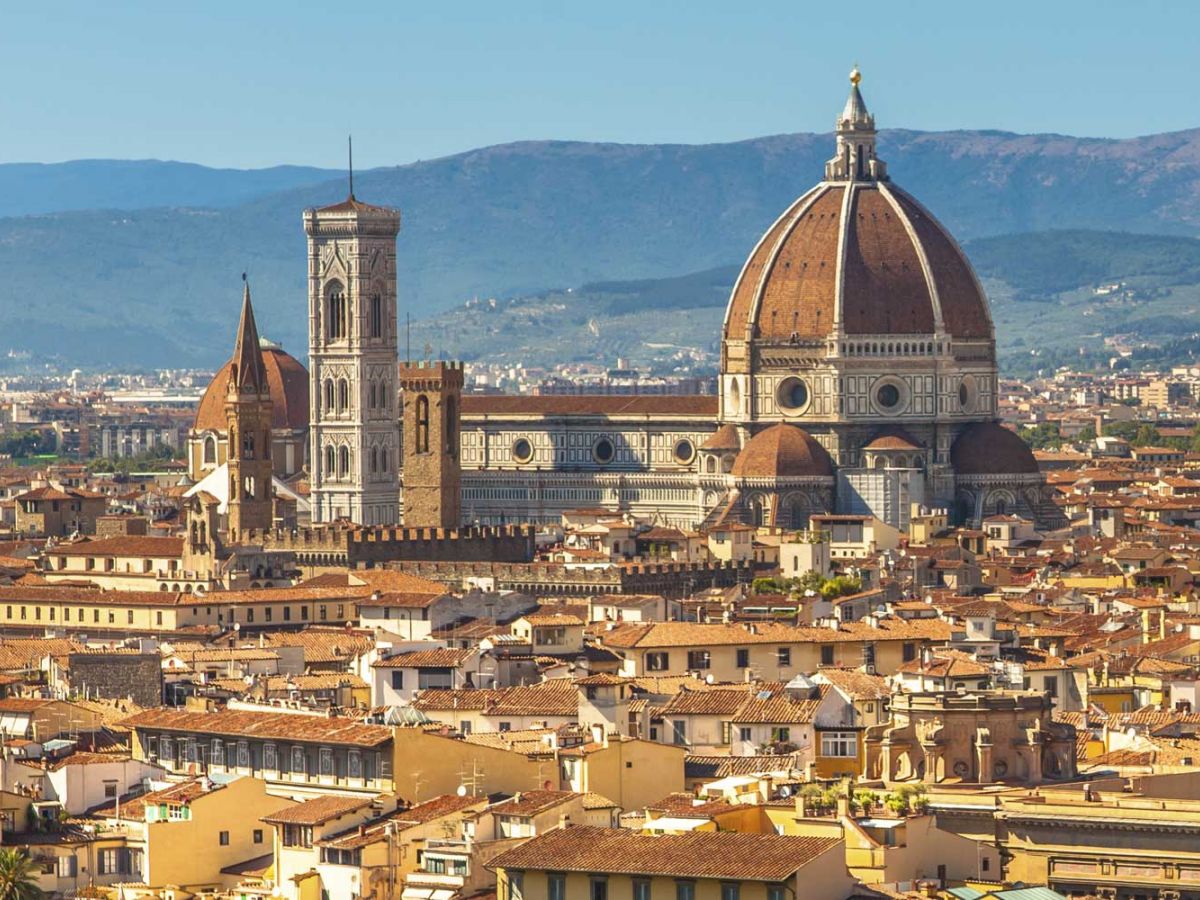 "There are moments when, enclosed in these great churches, among these ancient buildings, under the vaults of the arcades, I definitely believe to be a man of the thirteenth or fourteenth century. The air you breathe, the places you see, everything contribute to your way of thinking, it makes you forget the most familiar habits, and I often wake up amazed not to have met the gonfalonier and his retinue, an Uberti ora a Buondelmonte, Masaccio or Michelangelo. For certain history is wandering the streets in this country" – Étienne-Jean Delécluze
You can hardly mention anything in Florence that has not already been praised by great poets or embodied in the works of the most famous artists.
The city rises in a highly evocative position, located in a valley surrounded by beautiful hills like those of Cercina, Fiesole and Settignano.
In the middle of the city flows the Arno river, which divides the Florentine city in half and has always been a silent spectator of the city's past. Sun-kissed by a temperate climate the city is livable in every season with every street or alley full of infinite history. From the Etruscans to the Romans, from the Guelphs to the Ghibellines, from the Medici to the present day. The city never stops to give art, history and vitality.
The immense artistic heritage is one of the greatest Italian treasures and every building expresses aesthetic beauty and romantic magnificence.
The lights in the evening overlooking Arno and the Ponte Vecchio bridge illuminate the most distracted visitor along with the marvelous squares in the city center that abduct each one in a different way. The role of master is played by the museums and churches containing some of the most important artistic works in the world. The Duomo of Florence, Palazzo Vecchio, The Uffizi Gallery, the Basilica of Santa Croce The Basilica of Santa Maria Novella and finally the dome of Santa Maria del Fiore are some of the symbols known worldwide as part of an important Italian culture.
Here presented some of the most famous historical personalities that formed, lived and created, donating jewels of immense grandeur and discoveries that revolutionized our history; Dante Alighieri, Brunelleschi, Michelangelo, Raphael, Botticelli, Galileo, The Medici family and of course the famous Leonardo Da Vinci who created some of the most famous paintings and inventions in the world.
To stop in Florence means to immerse yourself in a concept of true beauty, a once in a lifetime experience you won't forget.
Corporate Data
CAMERA CON VISTA S.R.L.
Viale S. Lavagnini, 18
50129 Florence
P.I. - C.F. e R.I.: IT04581320480
Rea Number: 463034
Soc. cap. authorised, subscribed and paid up: € 25.500