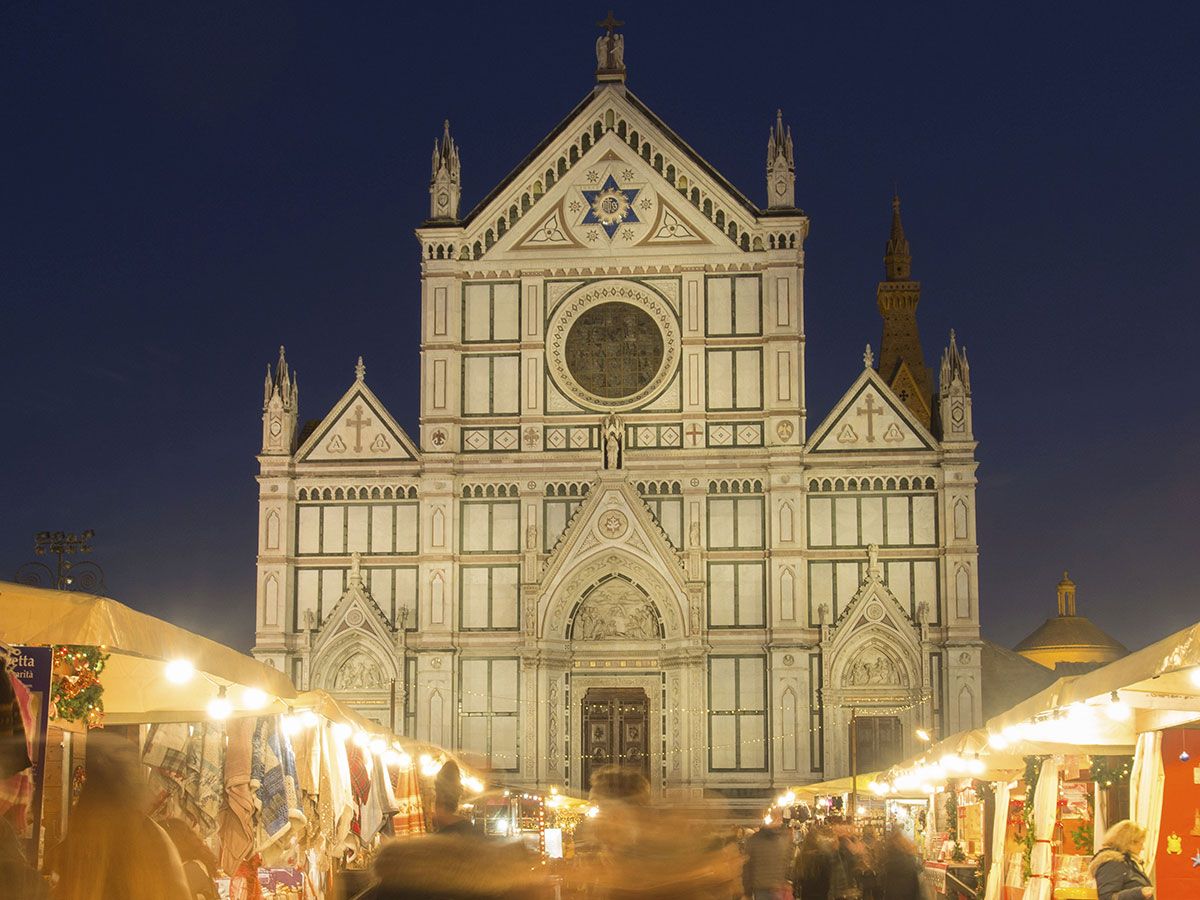 This year I decided to spend my Christmas holidays in Florence. Many have suggested the same, but I had my doubts. I was convinced that Florence needed to be enjoyed calmly, but instead many friends of mine told me that the city gives its best in this period of the year. Fortunately I listened to them!
After we checked in the hotel, a beautiful property situated along the Arno river called Hotel degli Orafi which looked like a palace, my family and I quickly headed out towards the markets. I have been told so wonderful things about them that my expectations were very high.
We took a road along the Arno that, thanks to the afternoon light breeze, made us enjoy the river and all the people that were heading, like us, to Piazza Santa Croce.
Christmas decorations were everywhere, it seems that this holiday is very much loved here and that Florence does nothing to hide the joy running through the city.
As we left the Lungarno we turned left and we found ourselves in the bars area, a street full of charming little establishments and very interesting shops, and of course my daughter and I forced the guys to wait for us since we had to visit at least a couple of them!
I think they had fun too, since they stopped at a bar!
In about ten minutes we arrived at the markets and I have to say that my friends were right! They were amazing!
There were dozens of stands selling anything with the church of Santa Croce in the background, completely enveloped by Christmas decorations and lighting still off, since it wasn't dark yet, but ready to explode in a wave of happiness as soon as evening approached.
And how many people! A multitude of people till the eye could see, with many kids singing Christmas chants.
We agreed on a meeting point and started exploring all the stands. I noticed right away one that offered wooden carvings amazingly done, all based on a Christmas theme. I bought a wooden block carved as a Christmas tree with the inscription "Best wishes from Florence" for my aunt, I'm sure she will be thrilled to hang it in her kitchen!
The there was an amazing painter, a master with watercolours, who painted for us a postcard so wonderful that I can hardly wait to place it in my living room!
We met with my daughter at a stand that sold pretzels and she had bought a lot of memories! Just like her mom!
Time went by and the light started fading away, creating a magnificent play of lights in the sky, and the vendors started to switch on all their lights. What a magical unforgettable feeling!
Obviously my son was at the candy store, which was huge! He was drooling! His dad was not different, as a matter of fact nearby were the stands of typical products, where he had bought already two Tuscan Pecorino cheese wheels and two bottles of Chianti. They smelled so good! Right behind the corner we found this spectacular little shop with this amazing lady artisan, who decorates beautiful Christmas balls even dedicated! We took one each, so our Christmas tree will be awesome!
After watching a group of kids exquisitely singing the Christmas classics, we stopped by at a deli, where we had fantastic roasted chicken and some vin brulée, which warmed us up since it became pretty chilly!
We left reluctantly, each one of us with a bag full of memories, and went back to the hotel. Tomorrow we will go visit some churches, but how much fun today!
We may be coming back next year!
Corporate Data
CAMERA CON VISTA S.R.L.
Viale S. Lavagnini, 18
50129 Florence
P.I. - C.F. e R.I.: IT04581320480
Rea Number: 463034
Soc. cap. authorised, subscribed and paid up: € 25.500