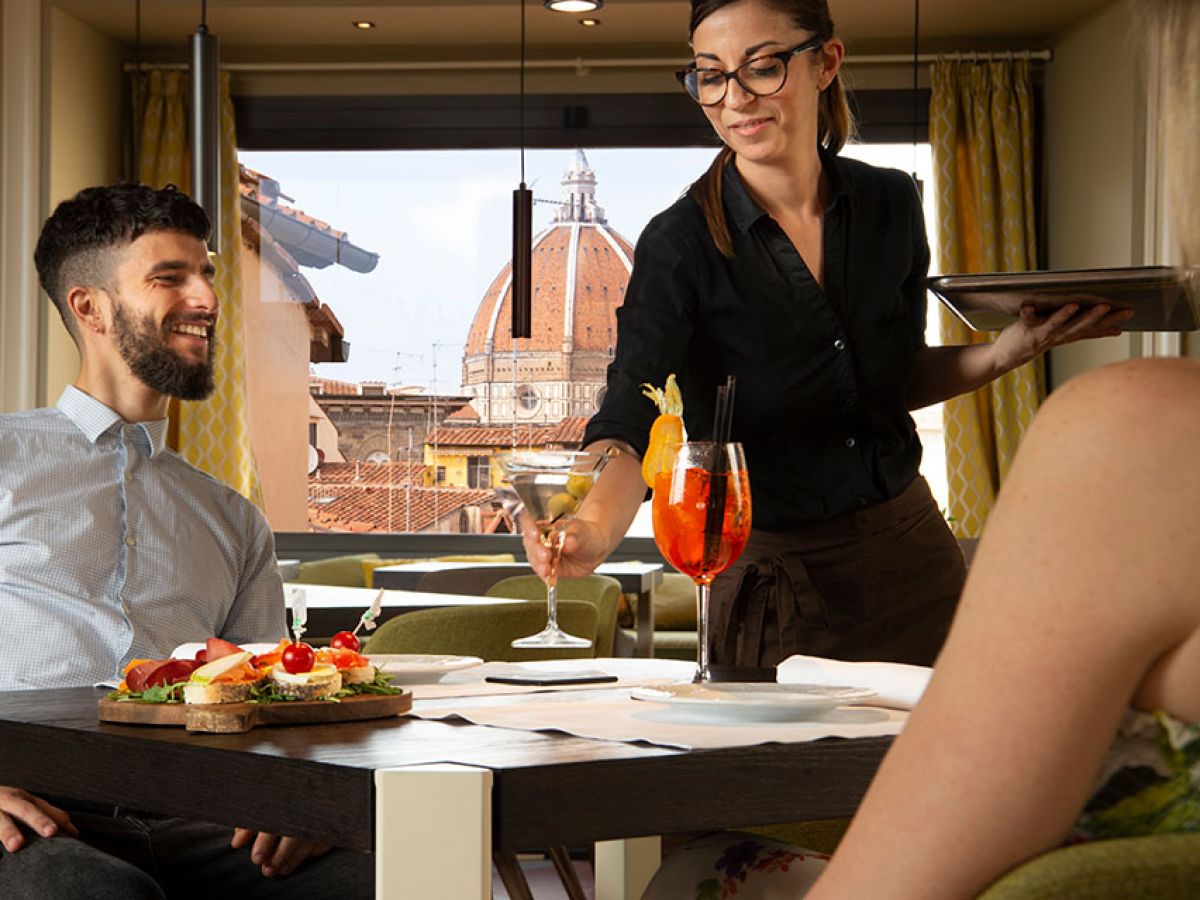 Found right in the historic centre of Florence, close to both River Arno and Ponte Vecchio, the superb Hotel degli Orafi does not only hold a premium location, but also a premium Florence rooftop bar.
Called Panoramic Bar, this venue has gone from being exclusive to guest staying at the hotel, through opening up to the public afternoons and late evenings, to now also offering a Florence rooftop lunch. Which is great news, since elevated spots in Firenze open during mid-day is not that easy to find.
The Panoramic Bar mixes the classic with the modern, and also a stylish interior lounge with panoramic windows with a lush outdoor rooftop garden. So you can choose to have lunch al fresco, or covered from the elements.
All around, the rooftop is framed with lovely views over the historical center of Florence, with the famous Duomo as a central focal point.
The rooftop lunch at the Panoramic Bar is served daily from 12.30 to 16.30. The light menu includes a selection of 'Taglieri' of cuts and cheese, salads, dishes of pasta and soups, desserts and ice-cream.
There is a wide choice for vegeterians, and the food is complemented with a great selection of wines and cocktails. The recommendation is to try one of the wines produced by the family vineyard, Ormanni, making wines since 1818.
Apart from lunches with panoramic views over Florence, the rooftop at Hotel degli Orafi is also a great spot to try an 'AperiView', which is an gourmet aperitif that combines the typical tastes of Florence and Tuscany with the classic favourite drinks. This is available from 15.30 to 23.30.
Or for the wine lovers, an 'AperiOrmanni', which is a wine tasting of 3 different kind of Chianti wines from the Ormanni wine cellar, served together with a selection of fingerfood. This is also available from 15.30 to 23.30.
Corporate Data
CAMERA CON VISTA S.R.L.
Viale S. Lavagnini, 18
50129 Florence
P.I. - C.F. e R.I.: IT04581320480
Rea Number: 463034
Soc. cap. authorised, subscribed and paid up: € 25.500